Put down the old dental floss string and say goodbye to the annoying task of keeping your pearly whites clean. There's a new option in town and it's much better than suffering through dental floss string (that is, of course, if you remember to floss at all).
Now you can choose to get a water flosser, otherwise known as an oral irrigator. Our goal is to make sure you're getting the best water flosser for your money so you can take care of your mouth the right way.
These great devices pressure water through a small hose and nozzle that gets in between your teeth and under your gums gently, providing a better clean and much more comfortable experience than using string. Think of them as mini pressure washers for your mouth, only without the harshness.
Water flossers are a much more effective way of keeping your teeth, gums, and mouth clean and risk-free when it comes to decay and disease. Electric toothbrushes are becoming popular these days as people wisen up to the fact that dental hygiene doesn't have to be difficult, but too many people forget about the immense benefits that the precision of flossing gives you. Don't be one of those people.
Use our interactive chart of oral irrigators below to find the right one for you, or check our updated list of the top 5 water flosser bestsellers. Underneath our easy to use chart, we've listed our picks for the Top 5 water flossers, including short reviews – all to make sure you make the best decision for your needs and get the most value!
Top Water Flosser Comparison Guide and Key
Included in the matrix are 6 columns:
Flosser brand and name/model & Picture (click to view more details or to purchase)
Tips – Number of tips that come with the flosser
Cord? – Whether the flosser has a cord or is a cordless, battery operated unit
Settings – Number of pressure settings on the flosser
Rating – The average user rating on Amazon.com. This is a helpful statistic in deciding if people are satisfied with their purchase
Price – These are approximate prices from Amazon.com. They change frequently based on availability, promotions, and more. Generally speaking: $ = under $20, $$ = $20 to $30, $$$ = $30 to $40, $$$$ = $40+
*Click on any of the columns to sort the data to help make your decision easier
What is a Water Flosser?
A water flosser is another name for an oral irrigator, which is a tool used to remove food stuck between your teeth. Like it says, its job is to floss, just like your standard string-style dental floss. Unlike dental floss, however, water flossers are easy to use, will not cut your gums, won't cause bleeding, and are actually enjoyable to use.
They have been around since the 1960s, when a dentist and engineer invented one, so they have their roots in dentistry and oral hygiene.
There are multiple styles:
Corded with Water Basin – These have cords that are attached to a water basin, which you fill and use to rinse your teeth
Cordless – Typically battery operated units that actually hold small amounts of water
Corded for Faucet – These also have cords, but are designed to fit on the end of a tap or shower. The water basically comes straight from the tap
Studies have shown that they can be just as useful, if not better, than regular old dental floss at cleaning your teeth and reducing bleeding and gingivitis.
How To Find The Best Flosser For Your Needs
This really depends on your personal desires and needs, naturally. However, we believe that our system of reviewing things and giving you the best options available will make this much easier. Above, you can see the top oral irrigators we found that we would recommend to people. There are more out there, but as of right now, we stand behind just those you see listed above. Below, you'll see a quick run down of our Top 5 picks.
Start with these two tools that we have provided through our research. While looking, determine what is most important to you: price, top ratings, versatility (multiple tips), corded vs. battery power…the list can go on and on. It's up to you to determine what is the best choice.
Do not worry, though, as you will be well-served by any of the flossers we have listed here at Water Flosser HQ!
Top 5 Best Water Flossers
Waterpik Ultra Water Flosser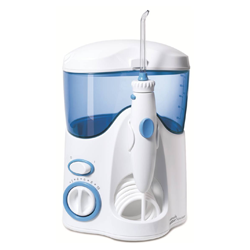 Far and away the most popular water flosser on the market, the Waterpik Ultra Water Flosser is an amazing tool.
With varying water pressures, 1200 pulses per minute, and 6 tips, it is one of the most well-equipped oral irrigators you can find. Combine that with the fact that this is Waterpik's specialty, and you've got an excellent, very high quality flosser.
Waterpik has an excellent claim, being the only brand proven to be 50% more effective than dental floss in regards to improving the health of your gums.
It has an easy to push button that controls the flow of water, and also has a swiveling head, which means no more strange hand and arm twisting to get into all the hard to reach places. All you need to do is gently turn the 'dial', for lack of a better word, with your fingers.
Quieter than most other units, you won't be waking up the whole house if you go to bed later and need to floss.
All in all, this is the very best water flosser there is, which is also backed up by the nearly 5,000 reviews on Amazon. That is an astronomical amount of real users leaving reviews, and the best part is, it has a 4.4 out of 5 star rating, which really is outstanding. This is our most highly recommended water flosser.
Click here to see pricing, ratings, and reviews on Amazon.com.
Panasonic Oral Irrigator EW-DJ10-A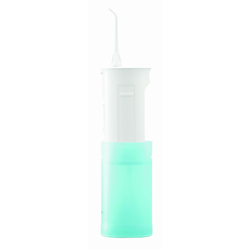 The Panasonic Oral Irrigator EW-DJ10-A is the best cordless, battery powered water flosser we found. Being powered by AA batteries means that there is no waiting for charging, no big and bulky charging stand, and it is so easy to travel with! It compacts into a very reasonable size for easy storage inside your travel kit.
It has 1600 pulses per minute and will always leave you amazed at how much extra food is stuck in your teeth, even after brushing and flossing with regular dental floss. The power from either of the two settings will leave your mouth spotless, feeling clean and refreshed, which is exactly what an oral irrigator should do!
This portable, powerful, precise, battery powered unit is perfect for your every day use, even if you just buy it to take along on your traveling trips.
It scores a 4.2 out of 5 star rating on Amazon.com from actual users of the product – obviously the vast majority of people who own this think it is an exceptional machine, with nearly 500 perfect 5 star reviews. If you're not into the counter top, corded Waterpik that we mentioned above, you should certainly give this Panasonic a try.
Click here to see pricing, ratings, and reviews on Amazon.com.
ShowerBreeze w/ 6′ Hose Water Jet Dental Irrigator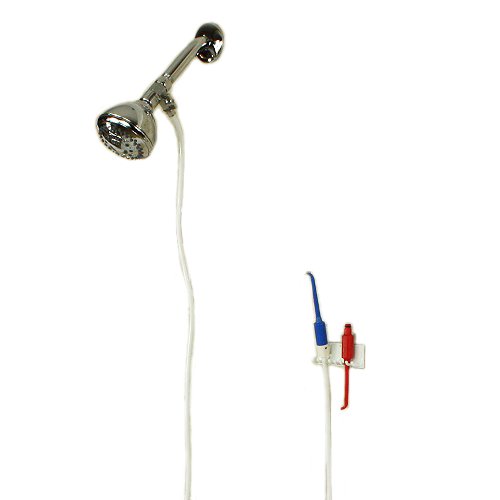 The ShowerBreeze Dental Irrigator is so basic, so easy, and of such high quality, that we had to include it here.
Sure, it looks a little weird, being attached to your showerhead, but it really does the job it was supposed to do. There's a model with a 3 foot cord, too, but we recommend getting the longer version because it's more versatile. You can floss your teeth in the shower for maximum ease of use, but with the longer cord, you should also be able to pull it across to your sink to do your teeth if you're not going to be in the shower.
One of the cool things about this unit is that it is American made in a Veteran owned and operated company.
The ShowerBreeze is very easy to install on your showerhead, and is easy to use, with a simple valve that regulates the amount of water that comes through to give you that perfect pressure.
Perfect for a couple of people, it comes with two different colored tips.
While all of the items we've recommended have very good reviews, this one takes the cake…a 4.6 out of 5 stars on Amazon from people ranting and raving about this flosser. 73% of people gave it a perfect rating, which is incredibly high, no matter what product we're talking about.
This is the third different type of flosser we've offered already in our Top 5, but each is the best in it's respective class, and any of them would do the job for you!
Click here to see pricing, ratings, and reviews on Amazon.com.
QuickBreeze – Dental Oral Irrigator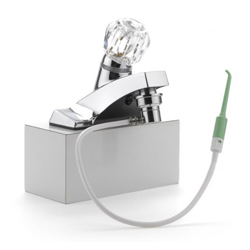 The QuickBreeze is also a product from OralBreeze, and it functions on the same idea as the ShowerBreeze, above.
Basically, you attach this unit to your faucet, so instead of drawing water from your shower, it draws from your sink. It's as easy as turning on the tap and you're ready to floss.
Again, it's incredibly easy to set up and install, you don't even need tools. They're designed specifically to be so easy and usable that you actually, you know, use it! That's what is so great about these products, they are basic, simple, and do the job they were meant to do, without unnecessary and distracting bells and whistles.
The company, OralBreeze, is amazing, as I mentioned above…an American, Veteran-run company, with exceptional customer service. People are always reporting how over the top the customer service is. If you do ever need to contact customer service for anything, you don't have to worry, because you get a lifetime warranty. So, if something does go wrong (even if you're 5 or 10 years into your usage), you talk to friendly, helpful, and dedicated staff, who will fix your problem without you having to fork over any more money.
For it's simplicity, massively high ratings, and devout fans, we can not recommend this unit enough. The little faucet attached irrigator packs a punch and will get the job done.
Click here to see pricing, ratings, and reviews on Amazon.com.
ToiletTree Professional Rechargeable Oral Irrigator with high Capacity Water Tank
The ToiletTree Professional Oral Irrigator is out with a brand new version 2.0, launched in August of 2013. They redesigned the things that people had brought up as troublesome during the first iteration, and have come out with an excellent product.
It is great for travel and convenience, being cordless and powered by a rechargeable battery that will last you awhile before you have to plug it back into the charger.
They've increased the size of the water tank, so you will be able to get every bit of food out from in between your teeth with this one, ensuring a hassle-free mouth cleaning.
Like the Waterpik, this has an easy-to-rotate nozzle, which allows you to change the direction of the water flow exactly how it needs to be, so you will get the best floss you possibly can.
The three settings and 2 nozzles means you will be able to find the mode you like, and then share it with someone else if you need to, and they will also be able to find the setting that works for them. And in case fashion in the bathroom is one of the things you are really into, this unit comes in three color schemes!
ToiletTree is serious about this product – it is of superb quality and their service is outstanding, so you will get an excellent tool to impress your dentist and peace of mind. You can also rest assured that actual users and reviewers on Amazon.com gave this product a whopping 4.6 out of 5!
Click here to see pricing, ratings, and reviews on Amazon.com.
Your Turn
We've pulled together a lot of information to help you find the best water flosser. It's up to you to choose from the top picks based on what meets your needs, is in your price range, and will help you meet all of your dental hygiene needs.
New flossers are getting put on the market sometimes by both new and long-time manufacturers. Because of that, the interactive guide above will be updated as new items get added to the marketplace (if they're the best, of course). If you have an oral irrigator that we've missed, that you think is the best, let us know and we'll take a closer look!