Waterpik WP-900 Water Flosser and Sonic Toothbrush Complete Care Review
The Waterpik Complete Care WP-900 is a new Waterpik product which offers full domestic oral care. It combines all the advantages of Waterpik water flossers with a sonic toothbrush.
It is found to be 70% more efficient than Sonicare FlexCare. All oral health needs, flossing and brushing, are met through one simple, easy to use and effective device, which saves countertop space and energy. It is also found to be much more effective than Sonicare Air Floss and regular, traditional flossing in plaque reduction and in fighting gingivitis and gum disease, as it has been proven to remove nearly 100% of plaque film from areas that have been treated.
>>Click Here to See Pricing, Ratings and Reviews on Amazon.com<<
As mentioned above, studies have shown that Waterpik Complete Care is up to 70% more effective in keeping your gums healthy than Sonicare FlexCare. It is also clinically proven to be up to 52% more successful than Sonicare FlexCare in removing plaque. It is of utmost benefit to individuals wearing braces and other dental work, such as implants, bridges, crowns and periodontal pockets. Other benefits of the device include leaving your mouth clean and healthy, and giving you wonderfully fresh breath. The company guarantees healthier gums in two weeks, and with Waterpik, you know that's a serious guarantee.
The Waterpik WP-900 package includes:
5 water flosser jet tips
2 classic jet tips
1 plaque seeker tip
1 orthodontic tip
1 pick pocket tip
It also comes with 2 sensonic brush heads, 1 standard brush head, 1 compact brush head, as well as a premium toothbrush travel case.
The brush heads have very soft, rounded-end bristles. The device has a modern, compact design. It has a high-volume, covered reservoir with 90 seconds of continuous flow of water (or a mouthwash mixture, if you prefer). It has a covered tip and brush head compartment which holds five accessories, for hygienic storage.
Other features of the product include an advanced pressure control adjustment system with ten pressure settings, a deluxe recharge indicator guage, a two-minute timer, a dual speed handle control and a 30-second quadrant pacer. It comes with a two-year warranty, a complete quick start guide and owner manual.
The benefits of the irrigator are most evident when reviewing relevant research. The WP-900 was clinically proven to be up to 3 times more effective than regular dental floss when used around braces with the orthodontic tip. It reaches below the gumline, where traditional brushing and flossing can't reach and removes bacteria from deep between the teeth. Laboratory tests have shown that it removes up to 99.9% of plaque from areas treated with just a 3-second application. It massages the gums, too, improving circulation and reducing bleeding.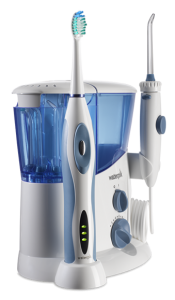 >>Click Here to See Pricing, Ratings and Reviews on Amazon.com<<
This excellent product has over 200 Amazon customer reviews and an amazing 4.5 star rating. Considering it is not only a water flosser but a sonic toothbrush, the price is also a major bargain, especially if you buy it through Amazon. Only about 5% of the reviewers gave it less than a 4 star rating. We can't think of any reason not to recommend this as one of the best products available to you for improving and maintaining your oral health.