Hydro Floss Oral Irrigator Review
The Hydro Floss water flosser is a new generation irrigator, which introduces hydromagnetic technology. The company claims that it is a high quality product and the most effective home oral treatment of its kind, so let's have a look at how it really performs.
As recent research suggests, oral health is correlated to a number of life-threatening conditions, such as heart and lung disease, stroke and diabetes. So, maintaining a good oral health is vital for everyone.
Hydro Floss
 is complementary to brushing in achieving an optimal oral hygiene. It removes plague and food debris from hard to reach areas where brushing and regular flossing cannot reach. It can be used on any kind of dental work, such as periodontal pockets, implants, crown and bridge work, veneers and orthodontic appliances. It is also very effective in cases of bleeding and inflamed gums, as it reaches below the gumline flushing bacteria away preventing gingivitis.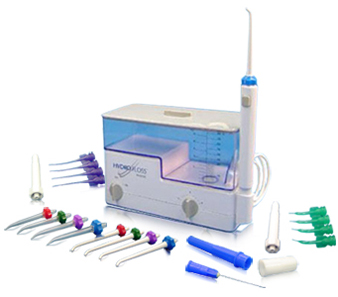 >>Click Here to See Pricing, Ratings and Reviews on Amazon.com<<
Its innovation lies with hydromagnetics, which it is claimed to make it twice as effective in comparison to other water jets. Hydromagnetic oral irrigation works by treating the water magnetically. By doing so, the ionization process is affected. This way the tension of the surface is reduced. As a result, the ability of the bacteria to attach to the tissue and multiply is inhibited, thus the formation of plaque film is prevented and tartar is unable to build.
Clinical studies have shown that the product is much more efficient in inhibiting bacterial formation on the teeth's surface, than non-magnetic water flossers. More specifically, two studies have been published at the Journal of Clinical Periodontology, showing Hydro Floss to be from 44% up to 64% more effective than non-magnetic irrigators.
The dimensions of the main unit are 8.25″L x 4.00″W x 5.00″H. It has an 800ml water tank with volume indicators to measure mouthwash and medicinal solutions. It comes with a pack of 4 color coded holder tips. It has a pulsating stream of a maximum of 1200 pulses per minute and pressure can be adjusted to personal needs and preferences. The device offers a maximum pressure of 60 psi. This was tested and found to be safe on gum tissue. A pause flow button on the handle adds to its convenience. It offers a 30 day money back guarantee, as well as a 1 year limited warranty with additional options.
>>Click Here to See Pricing, Ratings and Reviews on Amazon.com<<
Although Hydro Floss seems to be a good deal, it is probably one of the most expensive oral irrigators. This doesn't mean you shouldn't get it, naturally, only that it is at the top of the market.
Having over 175 reviews on Amazon, Hydro Floss gets a very good 4-star rating.
15% of the dissatisfied customers report poor manufacturing and quick failure, a fact that comes in contrast to its price. Others reported a number of different problems, such as leaking problems, inconsistent flow, low pressure, taking up too much countertop space and sanitary considerations. However, as with all products at the top of their market's price range, people judge these based on flawed expectations, sometimes. We just want to be sure we are providing you with all the necessary information to make the best decision for your oral health. The majority of users who reviewed the product are happy with their choice, however and report that since they added Hydro Floss to their daily routine it has made a big difference in their oral hygiene.