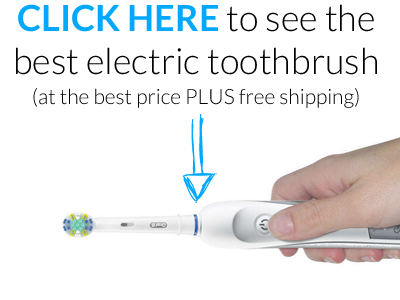 When you're looking for the best electric toothbrush, you'll want to have a read through reviews, compare brands against each other, and find the best price for the unit you pick. That's why we've decided to have a detailed look at the top rechargeable and battery powered toothbrushes on the market today and give you our in-depth analysis so your decision can be made much easier. Oral-B and Philips are really the top players in this market, but Waterpik has a really good flosser/brush combo and Braun has a decent line up. What we've done is researched the best selling, most popular, highest rated items we could find, took everything into account, and put the results of our research right here for you to dig into so that you can find the right tool to keep those pearly whites shining! The best place to start is our interactive table below that contains our picks for the Top 10 toothbrushes you can buy. If you keep reading, we'll give you a run down of what to look for before making a purchase, and also review our Top 5 picks, so that no matter what you're looking for or how you want to find it, we will have a solution for you!
Best Electric Toothbrush Comparison Guide and Key
We carefully selected the items above based on a number of criteria, including price, real user reviews, versatility (including how many brushing modes they have), whether they have a timer (quadrant time means that the toothbrush will tell you when to move on from the upper left side of your mouth, for example…usually after 30 seconds), and their quality.
What you see above is certainly not all of your options, but when you're looking for the best, we don't want to waste your time with toothbrushes that get low reviews, don't work well, or will otherwise waste your time.
If you still want to do more shopping and comparison yourself, either read on for our more in depth reviews, or 
have a look on Amazon
for all your other options (we find 
Amazon
typically has the absolute best prices, plus some handy reviews from real users).
Do You Need An Electric Toothbrush?
There is and probably forever will be a debate around this question. Even among dentists and oral care professionals, there is no agreement across the board as to whether a rechargeable or battery powered brush is better than a manual one. You'll hear that research (example 1 and 2) shows they're equally as effective…as long as a manual toothbrush is being used correctly. Well, according to this article, only 1 in 10 people brush their teeth correctly! You could be at risk of not getting the cleaning your teeth and gums need on a daily basis if you're one of the many people who are not brushing to dentist standards. You might want to upgrade to an electric unit if:
You don't necessarily brush 100% correctly (most people don't)
You have braces
You have limited dexterity and have a hard time brushing your teeth manually
You don't always brush for the full 2 minutes recommended by dentists
You don't like brushing your teeth
You want to make your dental hygiene routine easier
If you love brushing your teeth and do it perfectly, then you may not need one of these. Obviously the choice is yours, but we're just providing you with the information you need to make an informed choice, so if you do want to continue on and learn more about the top brushes, please read on!
How Does It Work?
The toothbrush head moves in one way or another. You'll find heads that vibrate, oscillate (move back and forth), and that use rotation-oscillation (almost like spinning). There are some that move back and forth and 'spin', but all of the models use one of these methods. When you turn the toothbrush on, after it's pressed to your teeth, the head will start moving, and will clean your teeth, mimicking the movements of your hand when you're using a manual brush. We've included a quick video by Oral-B to explain the basics. (Don't worry, you don't need to have or buy an Oral-B for the video to be useful. It gives some handy tips…so, thanks Oral-B!)
What Is a Sonic or Ultrasonic Toothbrush?
Battery and re-chargeable toothbrushes are great because they offer so many more strokes per minute than your average manual toothbrush if you're brushing properly. Sonic and Ultrasonic refer to the amount of strokes per minute that a brush can provide. Technically, it has to do with the sound range and the waves emitted by the toothbrush, but to keep it a bit more simple, it's better to look at strokes. It can get confusing when you're looking at brands and models that claim to be sonic or supersonic (such as the Philips Sonicare line), so it's best to understand that brushing your teeth 'abrasively' (in other words, touching toothbrush to teeth) is a very effective method of keeping your mouth clean and healthy, and that a lot of claims of new technology are typically only useful for making things easier, not clean better. You'll typically get 30,000-40,000 strokes per minute from a sonic or ultrasonic model. The high amount of strokes and the immense speed at which the tool vibrates actually creates enough force to clean in between teeth in places where actual bristles are not touching. You can learn more about the scientific process behind the method here. In the end, sonic just means it's a very fast moving model that utilizes both the actual bristles to clean your teeth and the 'wave' it creates to push toothpaste, etc. in between where bristles might not be able to reach.
Quick Reviews of the Top 5 Best Rated Electric Tooth Brushes
The Precision 7000 is the absolute top of the line offering from Oral-B. With 3 way movement (pulsating, oscillating, and rotating), you'll get an unbelievable clean – the company even claims that the brush will remove 100% more plaque than a normal manual toothbrush, so they've got quite a claim staked behind this model. With 6 cleaning modes, and 3 heads included in the box when you get it, this is an ultra-versatile toothbrush. Like most electric brushes these days, it has a timer to tell you how long you need to brush, and also how to break up those minutes between the quadrants of your mouth. However, the 7000 goes a step above and beyond by including a wall-mountable display unit that shows time remaining, quadrant, how hard you're brushing, and more. You will know exactly how to brush in the dentist recommended way and get the optimal clean in your mouth after using this for a little while. While this has only minor improvements over the 5000, the 5000 is showing up as out of stock more often, and the 7000 does give you a better experience with extra cleaning modes, a slicker look and feel, a better travel case, and a better SmartGuide (the display unit that tells you how you're brushing). Overall, this is a really good brush if you want all the bells and whistles plus Oral-B's well-known quality.
Click here to see pricing, ratings, and reviews on Amazon.com
The Diamond Clean is the absolute top of the line for Philips. With 5 brush settings and 2 heads included, it's incredibly versatile. One of the great things about this unit is that it's perfect for travelers who still want to have the great brush they get at home. That's because it comes with a special deluxe travel case, complete with a USB charger. This way you can pack it up into a compact case and not compromise your brush quality when you're on the road. The charging station at home is something out of a sci-fi movie – you simply rest the base in a cup that is included and through conduction technology, the brush gets charged. You can even use the cup for rinsing and mouthwash after you brush! We were really happy with the fact that you can get over 40 uses out of a single charge – that's an incredible charge to use ratio. You'll also be able to keep up on how much juice is left thanks to the illuminated display indicator, one of just 2 Sonicare models that come with it. Like others in its class, you get the 'quadpacer', which is basically a timer that lets you know every 30 seconds to change quadrants of your mouth so you are getting the optimal time cleaning each tooth. With up to 31,000 strokes per minute, this Sonic toothbrush really delivers the most important part of it's job, too – cleaning your teeth! It's got an amazing 4.4 out of 5 star rating on Amazon with 87% of actual users leaving a 4 or 5 star review, recommending this brush. Yes it's a top level brush that you'll pay a bit more for, but it has all the bells and whistles and you can rest assured you're getting some of the best quality available.
Click here to see pricing, ratings, and reviews on Amazon.com
The Healthywhite is more of a basic unit with 3 settings as opposed to the 5 and 6 of some of the other high-end brushes, but we had to include it for it's absolute value and quality. You don't necessarily need all the bells and whistles on some of the top units out there, and you're buying a toothbrush because you want a great cleaning solution for your teeth, not because it has a cool charging station or a light up display, right? The Healthywhite comes with a hard travel case which makes it easy to take on the go. It's a Sonic, so it gets up to 31,000 brush strokes per minute, which is part of why it's so effective. The claim they make is that it'll whiten your teeth by 2 shades in just 2 weeks, and it removes double the plaque that a normal manual brush would remove. Pretty big claims, but with 92% of actual users who have reviewed this brush giving it a 4 or perfect 5 star rating, you know it has to be among the best. Seriously – ninety two percent of people love this thing! This unit comes with a quadpacer to make sure you brush all of your teeth for the dentist recommended 2 minutes and that it is evenly spaced out between the 4 quadrants of your mouth. All in all, while this is more of an 'entry level' brush, it's reliability, popularity, and ease of use make it a top pick for anyone just looking to get into the electric toothbrush scene, or even veterans who know that simple is sometimes best.
Click here to see pricing, ratings, and reviews on Amazon.com
You can't be disappointed if you're picking up the Flexcare Platinum. Philips Sonicare is one of the absolute best lines of powered brushes, and they just keep impressing. The number one thing you'll notice about this is it's versatility. We've said it about other models, but you can get up to 9 different settings with this. It has 3 modes, each of which can be adjusted to one of 3 sensitivity levels. You will absolutely be able to find a pressure and a system that works for you with this brush, the level of choice is unheard of. When it comes to the actual brushing of your teeth, you can rest assured that with proper use the Flexcare Platinum gets rid of 7x as much plaque as a manual toothbrush. Seven times! The 31,000 brush strokes per minute combined with the specialized InterCare brush heads get you an incredible clean that you will actually feel after you've brushed. The quadpacer timer makes it easy to hit the recommended 2 minutes of brushing (and in the right areas). Traveling is a breeze with a dedicated travel case, and it actually lasts 3 weeks on a single charge, so no need to bring the charger with you when you're on the road – of course not having to charge it at home is pretty nice, too. This lightweight, comfortable Philips gets rave reviews from real users in the field, too. Just about ninety two percent gave it a perfect or near perfect rating over on Amazon, which is a great way to find out if you'll be happy with your purchase. We think this unit is incredible for people with sensitive teeth, people who like options, and for a couple who might have different brushing needs – all thanks to its quality and versatility.
Click here to see pricing, ratings, and reviews on Amazon.com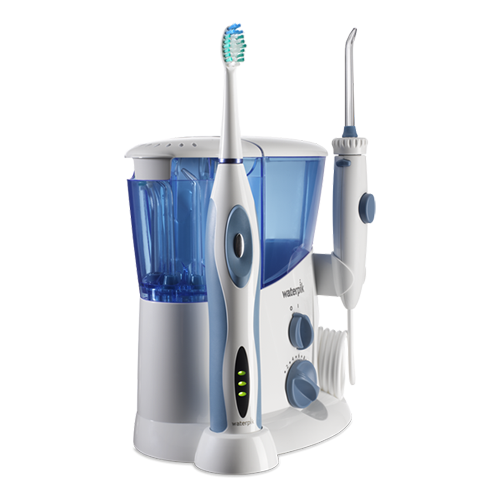 How could we leave out the Waterpik WP-900 Flosser and Toothbrush Combo? Waterpik is one of our favorite brands here at WFHQ! Well, the fact that it is the #1 best seller a lot of the time across the internet, including at Amazon, for electric toothbrushes, gives us a pretty good reason to love it, too. Waterpik gets their products tested and on the water flosser side has seen some amazing results, with much more success using their products than by using traditional brushing and flossing methods. The fact that you get both a flosser and a toothbrush means that you will never need to try hard for outrageously clean teeth and mouth ever again. The brush has 2 speed settings, with the fast one claiming to be 25% faster than the Sonicare FlexCare model. You get two brush heads and 4 water flosser tips, so you're well covered if you are using this with someone else (and if not, it is nice not to have to replace anything for at least a few months). Just plug the brush into the stand attached to the base of the flosser, and the thing is always charged up and ready to go. If you want to travel with it, that's not a problem – it comes with a hard travel case and will keep a charge for a couple of weeks with regular use. The flosser has 10 settings and as we mentioned, comes with 4 tips, 2 normal ones, a periodontal one to get in tough to reach places, and a small brush attachment. You won't find a better oral irrigator, so we're happy to stand behind this as a really great, convenient product that not only gets you a Waterpik flosser to greatly improve your oral health, but steps it up with a dedicated toothbrush that will work with the irrigator to give you an amazing clean. OK, so clearly there are a lot of really good toothbrushes out there, but again, it's amazing so we'll let you know – this one has a 91% approval rating from real users and owners on Amazon.com. The overall score of 4.6 out of 5 is about the highest out of all of its competitors, too. You should love the WP-900, we highly recommend it.
Click here to see pricing, ratings, and reviews on Amazon.com