Waterpik FLW-110 Power Whitening Flosser Review
The FLW-110 power whitening flosser is Waterpik's battery powered flosser that will floss your teeth easily and effortlessly, while at the same time brightening your smile.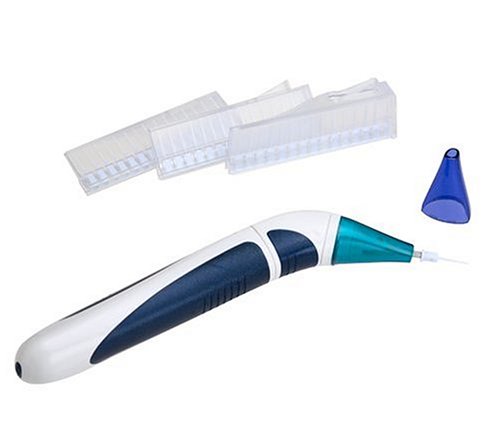 >>Click Here to See Pricing, Ratings and Reviews on Amazon.com<<
This is achieved by the 10,000 gentle tip strokes per minute that are generated by the device. Its innovative tips are mint-flavored and are coated with a unique whitening agent that helps brightening these tough areas between your teeth. A recent study showed that more than 80% of the participants when asked to state their preference between regular string floss and Waterpik's power whitening flosser, they said they preferred the latter.
The FLW-110 is used to remove food residue and plaque from between your teeth, where the toothbrush can't reach and using string floss can be a hassle to handle. At the same time it removes stains from the surface of the teeth while helping to keep them whiter. Clinical data revealed that the device improves blood circulation in gum tissue, thus improving gum health overall.
The product has an award-winning handle design, which makes it comfortable and very convenient for everyday use. It is compact and lightweight, so you can take it with you wherever you go. It comes with a pack of 30 disposable whitening power flosser tips. They are mint flavored. The package also includes two hygienic sleeves. You can get extra packages of the tips for just a few bucks from Amazon.
Although the product seems like a good deal, it is not particularly popular with Amazon reviewers. It is a few dollars more expensive than its non-whitening equivalent and this may be a factor contributing in having less than one hundred reviews. It has a 3.5 star rating overall, which is pretty good, though not outstanding.
A common complaint has to do with the fact that the tip does not reach the back of the teeth because it is not long enough, so flossing the old-fashioned way is not eliminated. Many refer to the FLW-110 as complementary to flossing rather than a standalone device. The tips also bend quite easily so, although the device is not particularly costly, you will be needing replacement tips on a regular basis, which will raise the cost over time.
>>Click Here to See Pricing, Ratings and Reviews on Amazon.com<<
60% of users gave it a 4 or 5 out of 5 stars, though, so only look into the complaints so far. Most people are pretty happy with their purchase. It seems that people who like this most are the ones that disliked string flossing. If they didn't make flossing a daily routine before, the fact that Waterpik provided them with the FLW-110 to make it easier is a big plus, so if you hate flossing but know you need to keep up on it, have a look at the FLW-110 Whitening Flosser.