Waterpik FLA-220 Power Flosser Review
The Waterpik FLA-220 power flosser is a battery powered mechanical flosser. It is compact, portable and easy to use, so it is ideal for traveling. The company states that it offers all the advantages of regular string floss but it is quicker and more user-friendly (the innovative handle design even won an award). It is ideal for flossing with braces as it can be used over the brace line.
>>Click Here to See Pricing, Ratings and Reviews on Amazon.com<<
The device flosses your teeth comfortably and easily by generating 10,000 gentle strokes per minute. It was clinically proven that the Waterpik power flosser is as effective as dental floss at improving gum health. It removes plaque and food residue from places that are hard to reach, deep between your teeth. Recent research has also shown that more than 80% of the participants of the study preferred the Waterpik power flosser to common string floss, as it is easier to use.
It can be found in several department stores in Canada and the US, as well as on Amazon (when we checked Amazon last, it was over 50% off regular price). It includes a pack of 15 disposable standard power flosser tips. These are flexible nylon tips which are easy to use and are gentle enough for a daily application. The package also includes two hygienic sleeves to cover the tips. The device comes with an AA replacement battery.
However, the Waterpik FLA-220 power flosser is not as popular among Amazon buyers as some of the larger, more advanced flossing units. It has a 3.5 star rating with a few more than one hundred reviews. Although it is quite affordable, many find it ineffective (though we imagine too-high expectations are the cause of much of the disappointment). At least a fifth of the reviewers claim that the product has nothing more to offer than plain dental floss. Some also comment on the fact that, although the device comes highly recommended for people with dental work, FLA-220 is 'useless' in cleaning braces effectively. Added to this, a few reviewers state that it is too harsh on gum tissue, causing them to bleed heavily. Unfortunately for the company, the phrase 'waste of money' comes up very often through buyers' reviews.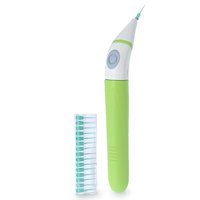 >>Click Here to See Pricing, Ratings and Reviews on Amazon.com<<
On the other hand, over half of the real users who reviewed the product are happy with their purchase. Although many mention that it is ineffective in cleaning braces, several satisfied customers claim that it did a good job where dental floss failed. Most of them state that they dislike string flossing and found the Waterpik power flosser a great alternative, as it takes much less time and effort. However, many say that, although they gave it a 5-star rating, the product is not a substitute to regular flossing. Rather it is complementary to flossing as it does a better job at some areas, but fails to treat others. Some are using the FLA-220, as well as a Waterpik water flosser.
At the end of the day, you have to realize that this is more of an additional tool than something you should be looking at to replace part of your oral hygiene routine. It's not a very expensive tool, and can be really helpful in getting a quick floss in, particularly if you hate regular flossing.